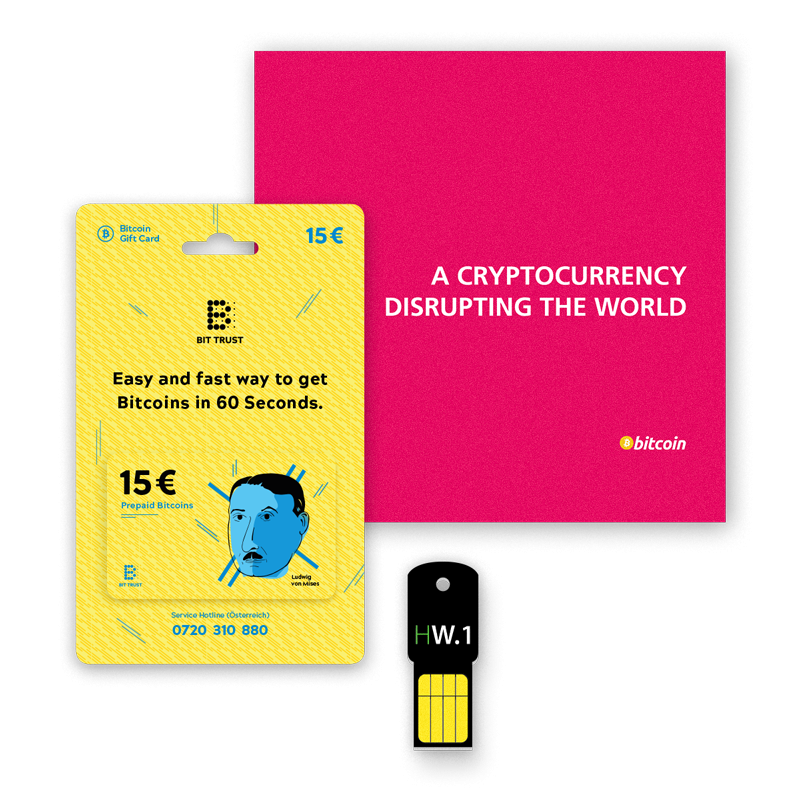 Bitcoin starter kit
The first retail store for bitcoins and the world of the blockchain.
The starter kit is the first step into the fascinating world of bitcoin. It enables an easy introduction to the materials, and allows you to create your own secure bitcoin wallet and to transfer your first bitcoins to it. The starter kit contains all the components and instructions you need to this end.
The starter kit contains:
Our Bit-Trust bitcoin booklet with a comprehensive yet easy to understand introduction to the topic
a highly-secure digital wallet – a so-called hardware wallet from the Ledger company.
a Bit-Trust bitcoin gift card to the value of €15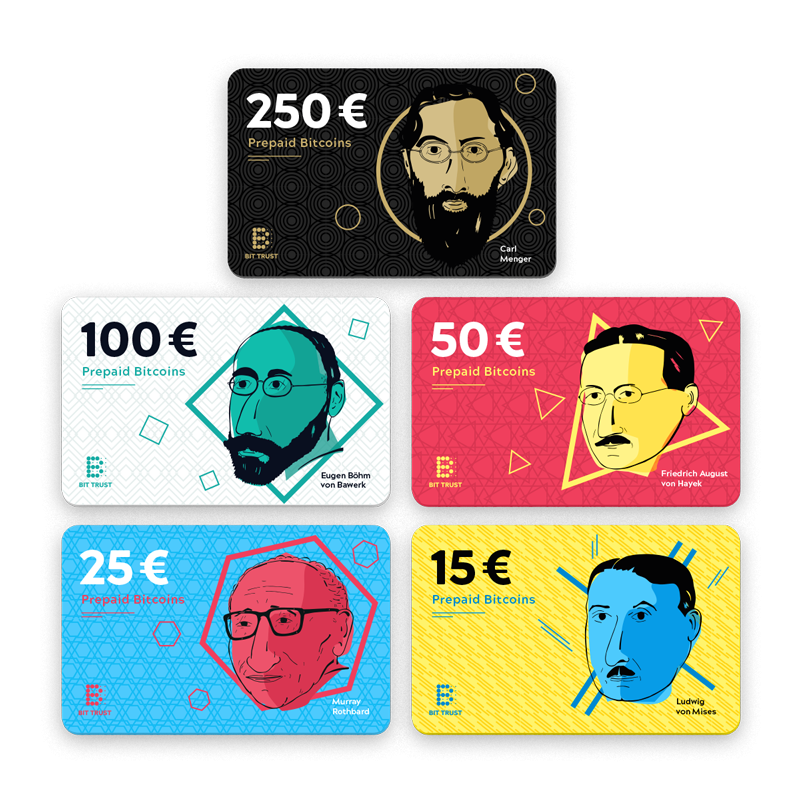 Bitcoin gift card
The pre-paid bitcoin card with Viennese flair.
Each high quality card is adorned with the portrait of a renowned economist of the "Austrian School of Economics".
Denominations are available from €15 with Ludwig von Mises (1881-1973) up to a card with a nominal value of €250 in classic black and with the face of Carl Menger (1840-1921), the founder of the "Austrian School", which also inspired bitcoin inventor Satoshi Nakamoto.
When you want to access your bitcoin, simply scratch to uncover the voucher code on the back of the card and redeem this at austrian-bitcoin.at. Before you know it, this digital gold will be cast into the blockchain and secured with your own private key.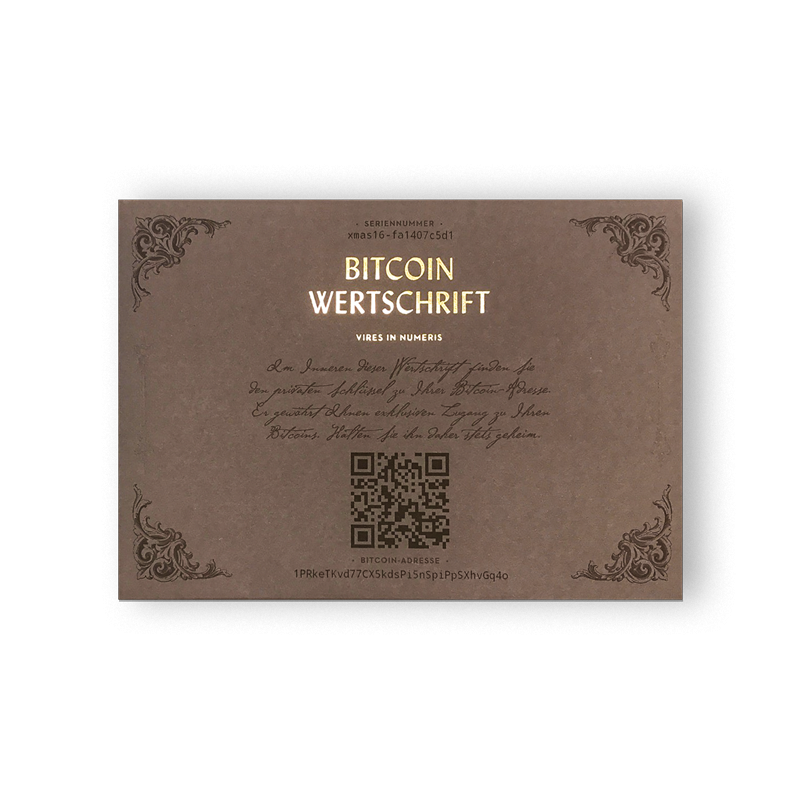 Bitcoin securities
We offer the option of buying bitcoins in the form of a physical bitcoin security.
This security can be stored in a deposit box or safe and thus offers a high degree of safety. The security consists of a bitcoin address and the corresponding private key that allows access to the bitcoins registered..
The creation of the security, in particular the generation of the private key, is undertaken with the greatest care and under notary supervision. Thanks to its high level of safety, the bitcoin security is particularly suitable for larger investment sums and longer timescales.
Please talk to our consultancy team about the terms. We're happy to advise you personally and with discretion at our premises.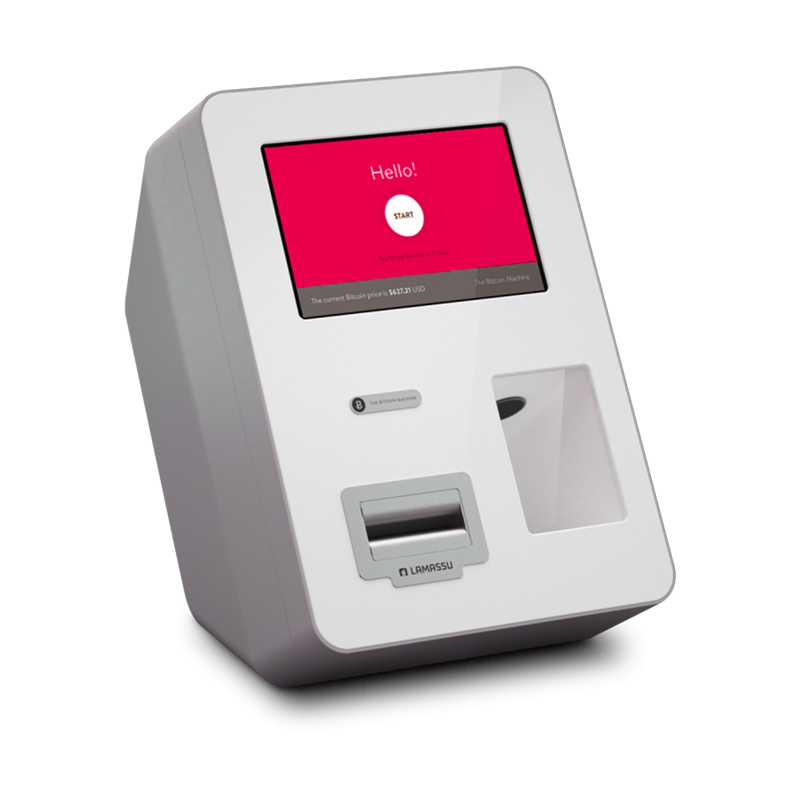 Bitcoin ATM
The House of Nakamoto provides the first "two-way ATM" in Vienna.
First the first time, bitcoin can be both bought and sold via the ATM's touchscreen. Easy to use, the desired amount of bitcoin will be in your wallet within minutes.
Simply hold the QR code in the ATM's camera and insert euro notes to buy bitcoin at the constantly updated and displayed live price. A touch of the screen sends the bitcoins to your account.
Should you want to sell bitcoin, you'll need a smartphone wallet that can scan the QR code displayed by the ATM.
You still don't have a mobile wallet? We're happy to help you in our shop to set up your wallet!
"I think it's a technical tour de force but that it is an area where governments are going to maintain a dominant role."
– Bill Gates
"Bitcoin is exciting because it shows how cheap it can be. Bitcoin is better than currency in that you don't have to be physically in the same place and, of course, for large transactions, currency can get pretty inconvenient."
– Warren Buffet
"Bitcoin is a remarkable cryptographic achievement and the ability to create something that is not duplicable in the digital world has enormous value"
– Dr. Eric Schmidt
"I think the fact that within the bitcoin universe an algorithm replaces the functions of [the government] … is actually pretty cool. I am a big fan of Bitcoin. Regulation of money supply needs to be depoliticized."
– Al Gore
"I do think Bitcoin is the first [encrypted money] that has the potential to do something like change the world."
– Peter Thiel
"[Virtual Currencies] may hold long-term promise, particularly if the innovations promote a faster, more secure and more efficient."
– Ben Bernanke
"Bitcoin actually has the balance and incentives right, and that is why it is starting to take off."
– Julian Assange
"Bitcoin will do to banks what email did to the postal industry."
– Rick Falkvinge